---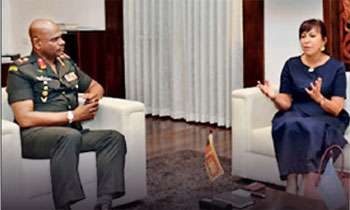 UN Resident Coordinator and UNDP Resident Representative in Sri Lanka, Hanaa Singer assured Army Commander Mahesh Senanayake that she would help expedite the compensation process for the two Sri Lankan Peacekeepers killed in Mali.
The Army said Ms. Singer called on the Army Commander on Monday at the Army Headquarters to extend her sympathies and condolences on the tragic deaths of the two Sri Lankan Peacekeepers in the Mali contingent (MINUSMA) a few days ago.
Captain H.W.D Jayawickrama and Corporal S.S. Wijekumara were killed on Friday while performing their duties in the Keerana area when their WMZ convoy was attacked by a rebel group using an Improvised Explosive Device (IED). Three more Sri Lankan Peacekeepers were injured in the attack.
Ms. Singer condemned the dastardly act in Mali and told the Army Commander that the UN Secretary General was deeply moved by the loss of the two Sri Lankan Peacekeepers.
The Army said she would be at the Colombo airport to receive the remains and issue a special condolence message to be read out at the funeral.
During the discussions with the Army Commander, she also said she would do everything in her capacity to alleviate the sorrow of both bereaved families.
The Army said Ms. Singer would visit the bereaved families on Thursday (31) and attend the funerals, together with her officials in the Colombo office.
Lieutenant General Senanayake expressed his appreciation to the UN for its concern and later explained to the UN Resident Coordinator about the funeral arrangements that had been planned by the Army and the respective Regimental Headquarters. (Darshana Sanjeewa)