---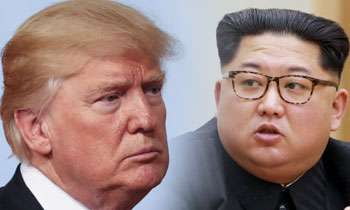 US President Donald Trump has cancelled his planned summit with the North Korean leader Kim Jong-un, blaming his decision on a threatening statement from the North Korean regime, the Guardian reported.
In a formal letter to Kim released by the White House, Trump said he had been "very much looking forward" to the summit in Singapore on 12 June.
But he wrote: "Sadly, based on the tremendous anger and open hostility displayed in your most recent statement, I feel it is inappropriate, at this time, to have this long-planned meeting."
Trump declared that the meeting would not take place "for the good of both parties, but to the detriment of the world.
"You talk about your nuclear capabilities, but ours are so massive that I pray to God they will never have to be used,"
The president's change of mind appeared to have been sudden and recent.
In an interview recorded on Wednesday and broadcast on Thursday morning on Fox News, Trump had offered a concession to North Korea, saying he could accept a phased disarmament, contradicting his own top foreign policy officials.
The about-face followed a strongly worded statement by North Korea's vice-foreign minister Choe Son-hui, which in turn was a response to hardline comments by US vice-president Mike Pence.
In her statement, Choe warned that Pyongyang could make the US "taste an appalling tragedy".
If the talks are cancelled, Choe suggested the two countries could engage in a "nuclear-to-nuclear showdown".
She said: "Whether the US will meet us at a meeting room or encounter us at nuclear-to-nuclear showdown is entirely dependent upon the decision … of the US. We will neither beg the US for dialogue nor take the trouble to persuade them if they do not want to sit together with us."