---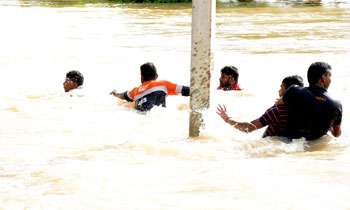 Following the torrential rains in the Northern Province, troops of the Army and Navy rushed into relief and rescue missions in the districts of Mullaitivu and Killnochchi which were worst affected by the inclement weather condition.
More than 230 army troops, belonging to the Sri Lanka Light Infantry Regiment, Vijayabahu Infantry Regiment and Sri Lanka Sinha Regiment have been engaged in these relief operations since heavy rains lashed the area beginning Saturday (22).
They said troops in Kilinochchi and Mullaittivu districts were deployed to flood-affected areas in Kilinochchi and had provided immediate rescue assistance, cooked meals, help for evacuation and relocation, medical assistance and sanitary and technical facilities.
They had assisted District Secretariat's relief work to nearly 2,968 flood-affected people at Raththinapuram, Anandapuram, Kanakambikulam, Maradanagar, Pannankandy, Dharmapuram, Puliyanpokkanei, Paranthan, Kudyirippu, Uriyan, Kandawalai, Mankulam areas in Kilinochchi and Mannakandal, Kawwalakandal, Kodadikallu, KJanagaratnapuram, Vidyapuram, Udayarkattu, Kuruvilkulam in Mullaittivu.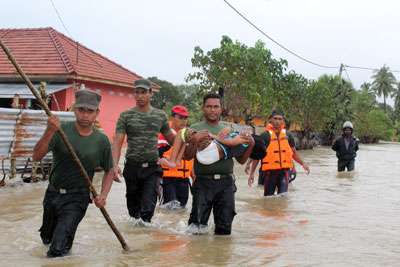 The Army said Kilinochchi troops on Saturday avoided a major disaster by preventing possible breaches on Olumadhu and Pulimuchchunadukuluam tank bunds (dams) in Kilinochchi as water levels began threatening those tank perimeter bunds.
Troops stacked sand bags around vulnerable places and prevented them from piercing as water levels were fast on the increase. At least 42 Army personnel took immediate steps to place 838 sandbags around those tank bunds within a few hours.
Meanwhile, the Navy said they had deployed nine dinghies and six relief teams in aforesaid areas since Saturday to assist flood victims.
Naval personnel attached to the North Central Naval Command were prompt in taking into action following the flood situation and they reached displaced people residing in Iranamadu, Shamikulam, Oddusudan and Wasanthampuram areas to rescue the flood-stricken people.
As such, the Navy relief teams have transferred 103 civilians to safe locations as of now.
The Sri Lanka Air Force said a Bell-212 helicopter and Y12 aircrafts had been deployed on flights over Iranaimadhu and Mullaithivu areas to assess flood situation.(Darshana Sanjeewa)