---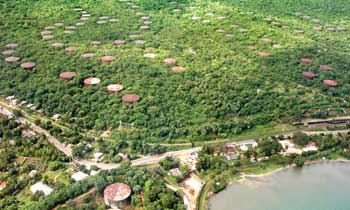 The Joint Working Group (JWG) between India and Sri Lanka is currently having negotiations on the establishment of a joint venture to develop the Trincomalee Oil Tank Farm, an official said yesterday.
The JWG has been set up to explore developments of roads, the petroleum sector and the Trincomalee port and power projects.
Managing Director Lanka Indian Oil Company Shyam Bohra told the Daily Mirror the government to government talks were taking place through the JWG to work out modalities for the development of the Oil Tank Farm in Trincomalee.
However, he said no final decision had been taken yet in this regard. The Memorandum of Understanding (MoU) was signed in this regard earlier.
LIOC uses 15 out of 99 tanks for fuel storage at the moment. The joint venture is to be established to operate the remaining 84 tanks in the upper farm.
Asked about fuel prices, Mr. Bohra said LIOC would revise the prices this month unless the government reduced taxes.
"We can survive if taxes are reduced. Otherwise, we have to revise the prices," he said. (Kelum Bandara)