---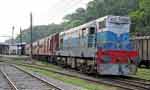 Train service between Galle and Matara would be cancelled from May 6 to May 9 due to maintenance work of a bridge, the Railway Department said today.
Railways Superintendent Wijaya Samarasinghe said due to the reconstruction work of a bridge between Unawatuna and Katugoda railway line, the train service would be suspended from 10.00pm on May 6 to 3.00am on May 9.
Accordingly, trains arriving from Maradana and Kandy would be restricted to Galle railway station while train service which begins from Matara will begin from Galle instead.
Mr. Samarasinghe apologized from the commuters for any inconvenience caused due to maintenance work and said special bus services would be implemented between Galle and Matara during those days. (Darshana Sanjeewa)