---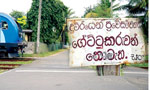 Two people were injured when a lorry attempting to cross an unprotected railway crossing in Seeduwa, was hit by the Colombo- Chilaw train.

The two were rushed to the Vijaya Kumarathunga hospital in Seeduwa and are said to be in a stable condition.

According to reports, persons manning unprotected crossings are currently on strike.