---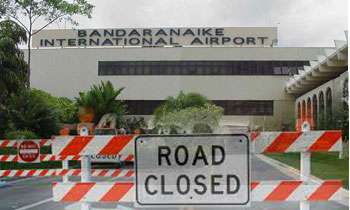 The tense situation reported at the Banadaranaike International Airport (BIA) has escalated with employees reportedly blocking all entrances to the premises, leaving hundreds of travelers stranded, reporters said.
The tense situation arose after discussions between the Airport & Aviation Services (Sri Lanka) Limited and the Airport Sri Lanka Freedom Party Union (ASFPU) failed this morning.
It is learnt that while the aviation sector is operational, ground staff in the area have blocked roads leading to and from the airport.
Reports suggest that all three entrances to the International Airport were obstructed by union members using backhoes and several other vehicles.
The Police, Special Task Force (STF) and anti riots squads have been summoned for additional security.
Convener of the Union M.W.P Muhandiram said that demands by employees to increase the basic salary from Rs. 10,000 had fallen on deaf ears.
Initiating the strike yesterday, the union vowed to disrupt the aviation industry if their demands were not met.
Airport officials are yet to release an official statement regarding the situation. (Thilanka Kanakarathna and T.K.G. Kapila)
Video by Reka Tharangani