---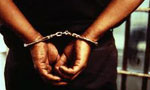 The owner of a tourist hotel in Akuressa and five others were taken into custody by the Matara Division Women and Children's Bureau last morning on the charge of rape of a 13-year-old girl. Three hotel mangers and a woman who aided and abetted the crime were among them.
Sources said the officials of the bureau had to search at least six hotels in the area to arrest the suspects. Earlier, the Pitabeddara Police had arrested seven suspects involved in the incident.
However, it is alleged that the girl had been raped first by the arrested woman's husband who allowed others to rape her.
Police said the schoolgirl from a remote village in the Pitabeddara Police area had been gang raped at times by more than 30 individuals, and 20 of them were identified.
Meanwhile, a senior police officer stated that a man in robes who was also involved in the incident had fled the area.
The suspects in custody were produced in court and remanded.
Women and Children's Bureau OIC Waruni Bogahawatta, Sergeants 55850 G. Sumathipala and 50077 Ananda, PCs 37982 Chandana, 60838 Manoj and 71437 Sampath, WPCs 7533 Madushika and 7646 Shiromi are conducting further investigations on the instructions of Matara Division SP G.H. Marapana, DIG Sumith Edirisinghe and Senior DIG Chandana Wickremeratne to arrest the absconding suspects. (Krishan Jeewaka Jayaruk)