---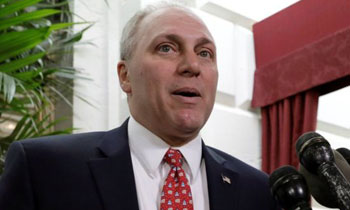 A top US Republican was among five people who were shot and wounded by a gunman during baseball practice in Virginia.
House of Representatives Majority Whip Steve Scalise was hit but expected to survive, witnesses said.
Police in the upmarket Washington DC suburb of Alexandria said they were investigating a "multiple shooting" and a suspect was in custody.
The lawmakers were practising for a game between Democrats and Republicans.
The annual congressional ballgame was scheduled to be played on Thursday at Nationals Park, home of Major League Baseball franchise the Washington Nationals.
An apparent eyewitness on Twitter, @ben_childers, said Wednesday morning's gunfire rang out at the YMCA baseball fields, by the Eugene Simpson Stadium Park.
President Donald Trump said in a statement: "We are deeply saddened by this tragedy.
"Our thoughts and prayers are with the members of Congress, their staffs, Capitol Police, first responders, and all others affected."
White House press secretary Sean Spicer tweeted that the president was being updated on the attack. (BBC)