---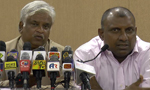 Former Sri Lanka captain and Minister Arjuna Ranatunga today said he was dissatisfied with the Sports Minister's decision to appoint Veteran Sri Lankan batsman and former cricket captain Kumar Sangakkara as a member to the National Selection Committee, so early after his retirement.
Instead, Sangakkara should have been appointed to the administration of Sri Lanka Cricket, Minister Ranatunga said in a discussion held with regard to the current scenario of Sri Lanka Cricket.
He said a former cricketer should be appointed to a National Selection Committee at least five years after his retirement.
Since those who played with Sangakkara are still in the team, his appointment to the Selection Committee was not a wise decision, he said.
"I also received an offer to be appointed to the Selection Committee just one year after my retirement. But, I rejected it because I felt that I might do some mistakes in the post with lack of experience. Those who played with Sangakkara are still in the team. Such decisions should not be taken by the authority," he said.
He went on to say that former cricketers like Kumar Sangakkara and Mahela Jayawardene could be appointed for the posts to develop Cricket techniques of the current SL national team players and new comers.
He also said that the Sports Minister should have a "backbone" to remove the current Chairman of the Cricket Board, due to problems after the new appointment.
"The Board of Control should be dissolved and an interim committee should be appointed soon to save Sri Lanka Cricket from businessmen. Those administrators are responsible for the fiasco which has disturbed the team's World Cup preparations as well. We have good players, but they should be backed properly. The administrators should not leave room for the players to lose their hope and confidence at any cost," he said.
The President of the newly appointed National Selection Committee of Sri Lanka Cricket Aravinda de Silva said he would work in the post until April 30 as he informed the Minister prior to assuming duties.
He also said that a five-year future plan should be prepared to uplift Sri Lanka Cricket which is now undergoing a setback following continuous defeats in the recent matches and matters such as coaching, tournaments, players, umpires and officials should be covered by this plan that should not be changed at any time, regardless of changes in the Cricket administration.
He said investments should be made not for the infrastructure of Cricket but for Human Resource Development and attention should also be paid for the development of school Cricket System where future Cricket legends are born.
Speaking on the recently concluded T20 World Cup where the SL team embarrassingly failed, former cricketer Aravinda de Silva took responsibility as the President of the National Selection Committee for the setback.
He said even though they expected the combination of the team would be a success it was not so. However, he said Cricketers like Lahiru Thirimanne and Dinesh Chandimal need backing to encourage them in the future.
With regard to Lasith Malinga's allegations that he was named for the T20 WC against his will, Aravinda de Silva refuted the allegations and reiterated that Malinga had expressed his willingness to play for the T20 via an email message.
He also said even though Malinga called off the T20 WC citing his physical fitness problem, everyone would be able to see in the future how Malinga would be fit for which sort of matches and when. (Piyumi Fonseka)
Video by Richan