---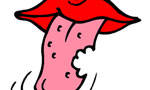 A 15-year-old schoolgirl who had bitten off a part of the tongue of a youth who attempted to molest her visited the Mawathagama police with her parents and handed over the half inch piece of the tongue in a bottle.
Police immediatly dispatched it to the Mawathagama District Hospital to be rejoined if possible.
The schoolgirl residing at Pusseliyedda area was a year-ten student of a school in the area.
Investigations revealed that her parents had been away from home when the suspect had forcibly entered the house and attempted to take liberties with her. However when he kissed her she had bitten his tongue severing it in the scuffle. The youth had fled from the scene when he found his tongue seriously injured.
Police investigations led to the arrest of a youth living in the area on suspicion but found nothing wrong with his tongue released him.
Mawathagama Police OIC Lalith Sandasiri Bandara is conducting further investigations and hopes to arrest the absconding suspect soon. (Pushpakaumara Jayaratne)