---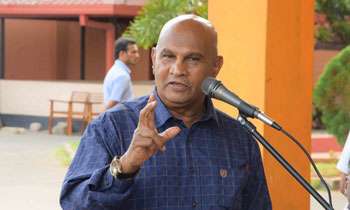 Northern Province Governor Reginald Cooray today suggested that the Northern Provincial Council (NPC) ministers should resign so as to resolve the issue, which has arisen from the change in its ministerial composition.
He said the composition had changed in the wake of the Appeal Court reinstating B. Deniswaran as a NPC minister.
"With the reinstatement, the number of ministers had increased to six. This has prevented the council from taking decisions or enacting laws. The best solution available to resolve this matter is for the ministers to resign and a new set of ministers appointed. According to clause 154 (E) of the Constitution, the Chief Minister is empowered to appoint ministers. I, as governor, have no authority to appoint or remove ministers. Therefore, Chief Minister C.V. Wigneswaran should resolve this matter without further delay," the Governor said during a visit to the Advanced Technological Institute in Jaffna.
He highlighted the fact that students from different ethnic communities islandwide including Hambantota, Kurunegala, Puttalam and Badulla study at the institute.
"This is a good precedent for reconciliation. We should commend these students for taking the initiative to study here while staying with Tamil families. This is a better way to end hostilities among us," he said.
He said he would do his best to find solutions to the problems faced by the institute after discussing them with the President and the Higher Education Minister. (Lahiru Pothmulla)