---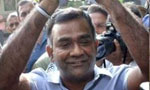 Former United National Party (UNP) General Secretary Tissa Attanayake was today released on a cash bail of Rs. 25,000 and four sureties of Rs. 500,000 each.
Attanayake was in remand custody on charges of publishing a letter with forged signatures of the then common opposition candidate Maithripala Sirisena and the then opposition leader Ranil Wickremesinghe during the 2015 presidential election campaign.
Colombo High Court Judge Kusala Sarojini Weerawardena fixed the case to be tried consecutively from March 20.
A travel ban was also imposed on the suspect.
He had been indicted on three counts under the Penal Code, the International Political and Civil Rights Convention and the Presidential Election Act. (Shehan Chamika Silva)
Video by Courts Prasanna