---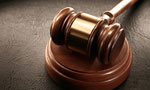 Former MP Tiran Alles and two others, who were arrested and remanded over the RADA case, were granted bail by the Colombo High Court today.
The accused were remanded over the case in which they were accused of misappropriating Rs. 124 million at RADA in 2006.
The four accused were, former RADA Chairman Tiran Alles, former Chief Operating Officer (COO) of RADA Saliya Wickramasuriya, Dr. Jayantha Dias Samarasinghe and Emil Kanthan.