---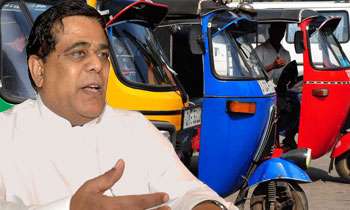 Transport Minister Nimal Siripala de Silva said today his ministry had decided to impose a minimum age limit of 35 on three-wheeler drivers when issuing driving licenses for passenger transport.
He said there were about 1.2 million three-wheelers in the country and new rules and regulations would be introduced regarding the transportation of passengers in them.
The minister said passenger transportation in three-wheelers began at the end of the 1980s and there were no laws to regulate the service.
He said under the Motor Traffic Act, the licenses obtained by three-wheel drivers earlier would not be cancelled.
"Those who obtain new three-wheeler driving licenses for passenger transport should undergo several examinations and should be 35 or above. Those under the age of 35 would be eligible for three-wheeler driving licenses only for home use. When issuing a license, the ministry would to check the applicant whether he or she was involved in any criminal activities," the minister said
He said applicants should undergo a two-week training session as recommended by the Commission of the Motor Traffic Department. (Chaturanga Samarawickrama)