---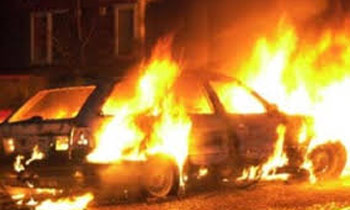 A Fire broke out in a car while it was traveling on St.Anthony's road near the Church in Dematagoda this morning, police said.
They said a smoke had started emanating from a from a Daewoo Matiz car suddenly and the driver had parked it in between two vehicles parked the side the St.Anthony's road.
Later the car caught fire and the two other vehicles beside it a Toyota Hiace van and Toyota Aqua car had also caught fire.
The damages of the vehicles had not being estimated yet and no injuries were reported, police said. (Chaturanga Pradeep)