---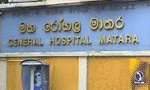 Three students who were returning home after the A/L exam were stabbed by two men at the Akuressa bus station this afternoon, Police said.
They said the injured students were admitted to the Akuressa Hospital and later transferred to the Matara Hospital.
Two suspects who were said to be brothers of an actress were arrested by the police.
Initial investigations revealed that the incident had occurred due to a longstanding dispute.(Krishan Jeewak Jayaruk)