---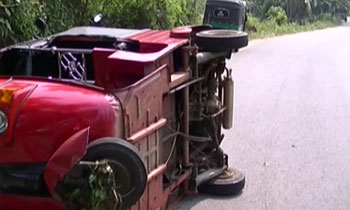 Three persons were killed and another four injured when a three wheeler and a bus collided head on at Polgahamulla in Dikwella on the Dikwella-Matara Road last night.
Police said the bus traveling towards Matara had collided with the three wheeler coming from the opposite direction. The driver of the three wheeler, five women and a 7-year old child who were inside the three wheeler were injured in the accident.
They were admitted to the Matara Hospital and the driver, the child and a 37-year old woman succumbed to their injuries.
The victims were identified as residents of Dikwella and the driver of the bus has been arrested.