---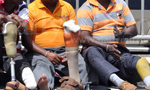 Three disabled soldiers who were engaged in a fast outside the Fort Railway Station were admitted to the Colombo National Hospital yesterday.
Hospital sources said one of the soldiers who were a blind had been discharged after being treated for an eye infection while other soldiers are still undergoing treatment at the hospital.
Several disabled war veterans launched a fast unto death last Thursday demanding the government fulfill its promise of providing their pensions with arrears.