---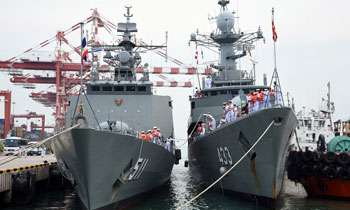 Three Royal Thai Naval Ships; HTMS Bangpakong, Makutrajakumarn and Pattani arrived at the Colombo Port on a training and goodwill visit yesterday, the Navy said.
It said the visiting officers of the Royal Thai Navy were called on Chief of Staff of the Navy, Rear Admiral Neil Rosayro at the Naval Headquarters and during the meeting, they had exchanged several matters of mutual importance.
"During the five-day tour, the ships' crew is scheduled to take part in various programmes including friendly sporting activities, cultural shows, variety shows organized by the Navy. The ships are due to leave for their next port on April 9," it added.
It said the Commander Royal Thai Naval Cadet Training Unit, Rear Admiral Sompong Poowang and Commanding Officers of the ships; Captain Niwat Jitpoolphol, Commander Nattapon Sungakitboon and Commander Narunat Panckam met with Commander Western Naval Area, Rear Admiral Nishantha Ulugetenne at the Western Naval Command Headquarters and held a discussion.