---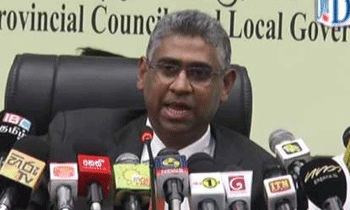 The three Provincial Councils of Sabaragamuwa, North Central and Eastern will be brought under the administration of the governors of the respective provinces once the terms of office expire on September 26 until such time the elections are held for the three provinces, Local Government and Provincial Councils Minister Faizer Musthapha said yesterday.
Minister Musthapha said that elections for the three PCs could not be held until the delimitation process was over and expressed hopes that the government would be in a position to finish the job by March 2018 making way for the elections commission to conduct polls for the three PCs in March.
Now that the Provincial Councils (Electoral) Amendment Bill has been passed in Parliament by more than a two thirds majority on Wednesday, the Elections Commissions is not obliged to announce nominations for the three PCs after the expiry of the term of office of the three PCs.
Minister Musthapha addressing a news briefing at his ministry last afternoon said if there were any impediments - legal or technical- to delay the passing legislation on delimitation, Prime Minister Ranil Wickremesinghe will appoint a five member committee to address them and pass the bill before March 2018. (Sandun A Jayasekera)