---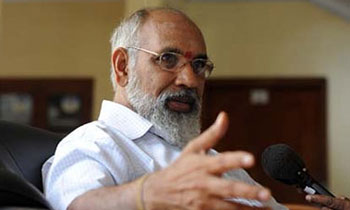 The Police saying there is a threat to Sumanthiran's life is a ploy to station the army permanently, the Northern Province Chief Minister C.V.Wigneswaran said.
He said so when queried about the death threat on TNA Parliamentarian, Sumanthiran, and the arrest of former combatants.
H said that the Police had taken steps regarding it. But they had not informed Courts about the death threat to the parliamentarian.
"The Police had told Courts that those arrested had drugs in their possession. However they had not notified Courts about the death threat. If there were any truth in the allegation , they should have notified so," the CM said.
"We have to find out to what extent it is true. Following the Police investigations something will be said.One thing we must remember is that from time to time there were death threats or some tension were created. They did this in the case of Kilinochchi Jeyakumari as well," he said.
"I wonder whether the circulation of this kind of rumour is a ruse to station the army permanently in Jaffna,"Mr.Wigneswaran said. (S.Nitharsan)