---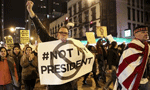 NEW YORK - Protesters took to the streets Wednesday in at least 10 cities to march against president-elect Donald Trump - and numerous college students and faculty leaders took to social media to announce support groups and even postponed exams.
Protests were underway in Chicago, New York, Los Angeles, Philadelphia, Boston, Washington, D.C., Portland, Ore., St. Paul, Minn. and several other cities. An estimated 2,000 protesters shouted angrily in downtown Seattle, expressing their frustration at the Trump victory over Democrat and former Secretary of State Hillary Rodham Clinton, who won 228 electoral votes to Trump's 279.
Police in riot gear struggled to hold back scores of protesters in some of the cities as protesters chanted "Not My President" and "No Racist USA." The protests were mostly peaceful. Seattle police said they were investigating a report of a shooting near the site of the protest in that city, but it may not have involved protesters.
In Washington, D.C., hundreds took to the streets carrying signs saying "Nasty Women Fight Back" and "White Males for Equality for All."
The unrest culminated when two separate anti-Trump demonstrations converged in front of the Trump International Hotel. They chanted and yelled "Impeach Donald Trump" and toward the end yelled at police officers who stood guard at the hotel entrance.