---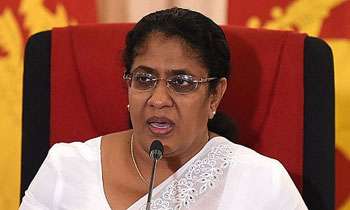 Referring to Bodu Bala Sena (BBS) General Secretary the Ven. Galagodaaththe Gnanasara Thera sentenced to a jail term of six months rigorous imprisonment, Justice and Prison Reforms Minister Thalatha Athukorale said yesterday any person convicted by Court should wear the prison jumper as provided by the Prisons Ordinance.
She said this in her letter to Ven. Prof. Kotapitiye Rahula Thera, the Anunayake of the Supreme Sangha Council of the Kotte Chapter, regarding the convicted monk wearing the prison jumper instead of the saffron robe while serving his prison term.
The minister said according to the Annunayake Thera, a Buddhist monk could only be disrobed by the particular Sangha Council and that the Commissioner of Buddhist Affairs could only do so under the direction of the relevant Mahanayake Thera of the Nikaya.
"As far as I understand, under normal circumstances, a monk can be disrobed at his own will. The sole authority to decide on such a matter lies with the specific monk or the relevant Nikaya such a monk belonged to. The government has no authority to decide on such matters," she said. "All citizens should abide by the law under an independent judicial system. The Prisons Ordinance provides the means of dealing with those who are sentenced to prison followed by a Court verdict. The Prisons Department is governed by the Prisons Ordinance."
She said as provided by the Prisons Ordinance, any person serving a prison sentence followed by a Court verdict should wear the prison jumper and it was in no way connected to any religious bias. (Kalathma Jayawardhane)