---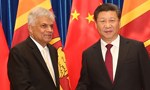 While claiming that the Chinese government only considers Sri Lankan people and its policies and not personalities and political parties when assisting Sri Lanka, China's President Xi Jinping today said that a third party cannot harm the friendship between Sri Lanka and China.
Appreciating the foreign policy of President Maithripala Sirisena and Prime Minister Ranil Wickremesinghe, President Jinping expressed happiness over re-commencement f the Colombo Port City project.
He appreciated the Sri Lankan government's decision to make it a special economic and financial zone.
Cordially receiving Prime Minister Wickremesinghe and the Sri Lankan delegation at the People's Hall in Beijing, Jinping said he hoped that Sri Lanka would have the ability to get the most out of the opportunities before it, to come towards the path to development.