---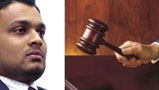 The Colombo High Court today directed the Gangodawila Magistrate's Court Registrar to immediately forward the case file -- on the inquiry in which former magistrate Thilina Gamage is charged with the rearing of an elephant in contravention of the Public Property and Fauna and Flora Act -- to the Colombo High Court.
This order was given by HC Judge Manilal Waidyathilaka when a motion filed by Counsel J.M. Paumi on behalf of Mr. Gamage was taken was taken up for hearing after considering a request made by the Senior State Counsel Dileepa Peiris.
The motion was filed in connection with the revision application filed by the Attorney General in response to the order given by the Gangodawila Magistrate Kanishka Wijeratne on June 2 releasing Mr. Gamage on bail.
Objecting to the motion, Counsel Peiris told court that the motion had been filed to clarify the ambiguity in the HC order of June 13 suspending the Gangodawila Magistrate's bail order.
He said it was illegal to file a motion to clarify the ambiguity of any order given by Court.
Earlier, the Colombo High Court suspending the Magistrate's bail order, noticed former magistrate Thilina Gamage to appear in court on June 21.
However, the counsel who filed the motion recalled it without any submissions and ascertained that his client Thilina Gamage would appear in court on June 21 in keeping with the High Court order. (Shehan Chamika Silva)