---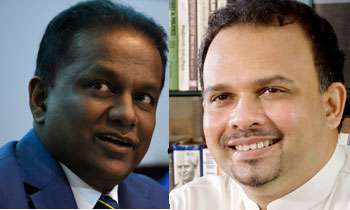 Deputy Speaker and Chairman of Committees, Thilanga Sumathipala today complained to Speaker Karu Jayasuriya that Plantation Industries Minister Navin Dissanayake had threatened him following the no-confidence vote against Prime Minister Ranil Wickremesinghe in Parliament yesterday.
In a statement, he said Minister Dissanayake blasted at him in a rowdy manner near the elevator at the second floor.
"In front of police officers, Minister Dissanayake threatened to remove me from the post of Deputy Speaker. Several ministers who witnessed this incident mediated and tried to explain to the minister that his behaviour was indecent," he said.
However, Minister Sumathipala had requested the Speaker to hold an impartial inquiry into this incident and take disciplinary measures accordingly.
When Daily Mirror contacted Minister Dissanayake to inquire into the incident, he refuted the allegations levelled by Minister Sumathipala about a bitter experience involving the duo.
"The Speaker has not approached me regarding such a complaint. If one needs any clarification on the issue, he or she may view the video footages recorded in CCTV cameras at the location where the incident is alleged to have taken place," he said. (Thilanka Kanakarathna)