---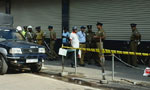 An explosion has reported taken place in shop in Gampaha this morning, Police said.
The Police said the explosion took place when they arrived to the shop following a complaint regarding a certain theft, which was allegedly taken place in the very shop.
They said the thief had stolen Rs. 950,000 and the CCTV system of the shop and he had fixed a locally made bomb on the entrance door of the shop aiming it to explode when somebody entered the shop.
However, no injuries had been reported. (Thilakaratne Dissanayake and Tony Karunanayake)