---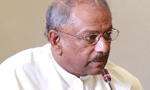 Joint opposition parliamentary group leader Dinesh Gunawardane said today either the Subject Minister or the Parliament Secretary General had blundered when presenting the Value Added Tax (VAT) Amendment Bill without following the proper procedure.
Mr. Gunawardane expressed his views after the Speaker read out the Supreme Court determination and said the Constitution stipulated the procedure to be followed.
He said the Cabinet should endorse the Bill and that decision should be communicated to the House before its presented.
Mr . Gunawardane said it was the responsibility of the minister or Parliament Secretary General to ensure that the Cabinet approval was notified to the House.
He recalled how former minister A. T. Adikari was stripped of his portfolio because of such a mistake he had done during the tenure of former president R. Premadasa.
"Financial Bills are serious matters as we all know," he said. (Kelum Bandara)