---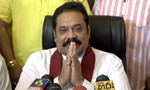 Former President and MP Mahinda Rajapaksa today said the country was like a piece of cake as everything was in order and in shape, when his Government handed it over to the new Government.

However, he said the Government had failed to gain benefits from the given opportunity.
"We put an end to the war, developed the country and increased foreign reserves before the Government took control of the country. It was handed over like a 'piece of cake' and everything was in order. But once the Government took over, the economy collapsed rapidly," he said at a New Year function at his public relations office.

Mr. Rajapaksa said if the Government continued with development process without abruptly halting them, people would have benefitted well today.
Video by S.M.S.Rathnayeka