---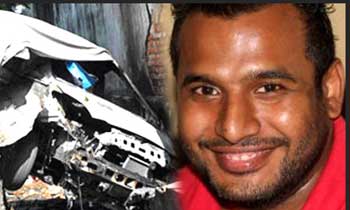 Colombo Additional Magistrate Isuru Neththikumara today directed the CID to take into custody the real suspects behind the killing of rugby player Wasim Thajudeen and produce them in courts.
The Magistrate pointed out that those in remand custody are the ones who concealed evidence in the killing and inquired who the real criminals behind this were.
The Magistrate questioned in this manner when the case relating to the killing of Thajudeen was taken up for hearing where the CID submitted a report on the progress of the investigations carried out so far by them.
The suspects in this case who were present in courts, were former DIG Anura Senanayake, former OIC of the Narahenpita police crime investigation unit Police Inspector Sumith Champika and Prof Ananda Samarasekera who functioned as the chief JMO at that time. These suspects are presently on bail.
The police producing a progress report on the investigations carried out so far stated that on 17th May 2012 the day Thajudeen was killed, in the motor car that chased behind him, a youth was seated inside this car had been wearing a T-shirt with a name and a number which had been recorded by the CCTV cameras.
Police informed further that investigations are continuing in order to identify who this person was.
The CID also informed that they have requested for satellite Photos and Video clips on the incident from the NASA institute but the institute had not responded yet.
The CID also stated that up to now 1,200 persons had been interrogated and their statements recorded.
Police also stated that 2.2 million mobile phone inquiry reports had been subjected to investigations and as this investigations are very complex it would take more time for the completion. (Manopriya Gunasekera)