---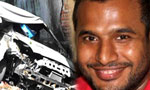 The Criminal Investigation Department (CID) has recorded statements from the former Officers-In-Charge of the Kirulapona and Narahenpita Police and another police officer, all of whom had conducted the preliminary investigation into the death of rugby player Wasim Thajudeen.

The CID, in a report submitted to Court, said the statements from these officers were recorded at the CID office recently.

Statements from a former Narahenpita OIC, Chief Inspector Dalian Kamal Nishantha Perera, OIC (Crimes), IP Sumith Perera and a former Kirulapona OIC, Chief Inspector Aruna Samantha Chandrapala had been recorded.

Court ordered the CID, on December 10 last year, to conduct the investigation properly and record statements from the former officers of the Narahenpita Police.

The judge gave this order after considering the request of the attorney representing the aggrieved party to punish the officers, if any, under sections 198 and 199 of the penal code who had acted to conceal the truth during the judicial procedure. (Nirangi Abeywickrema)