---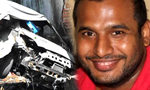 Colombo Additional Magistrate Nishantha Peiris today advised the CID that there was no obstacle to deploy usual investigation into the phone calls received from the Presidential Secretariat (PS) and Temple Trees (TT) to the Narahenpita OIC on the day that Wasim Thajudeen was found dead.
The Magistrate directed the prosecution to summon any person attached to the PS or TT without hesitation if necessary for the inquiry.
Considering the request made by Counsel Misba Sathar, who appeared for the aggrieved party, the Magistrate also informed the CID to take appropriate steps on former Colombo Chief JMO Ananda Samarasekara before long, because no court has given any stay order yet preventing him being arrested.
The Magistrate told the prosecution to go ahead with necessary legal actions in line with the Criminal Procedure Code, if there is sufficient evidence over the suspicious behaviour of the former JMO.
Filing a further report in court Deputy Solicitor General said investigation is continuing into the alleged phone calls received to Thajudeen's friend, Ahamad Safar, on the day Wasim Thajudeen was found dead.
He also said the CID had recorded statements from few administrative officers over the inquiry which had begun in association with the Health Department, over the alleged dispatch of body parts from Judicial Medical Services office to the SAITM.
Earlier, the CID and a team of experts searched the SAITM Laboratory based on the information revealed during the investigation that the former JMO Ananda Samaraseka had dispatched few body parts of late Wasim Thajudeen to the SAITM. And the recovered 19 femur bone pieces and seven bone pieces of chest area were sent to the 'Genetech' to conduct a DNA test using DNAs of Thajudeen's mother.
The prosecution said that the suspects -- former SDIG Anura Senanayake and former Narahenpita Crimes OIC Sumith Perera -- had been charged under Sections 113 (Conspiracy) and 32 (Liability for act done by several persons in furtherance of a common intention) of the Penal Code, and that according to the provision in Section 13 of the Bail Act, a person who had been charged with an offence punishable with death or with life imprisonment, shall not be released on bail except by a judge of the High Court. (Shehan Chamika Silva)