---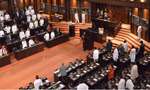 Parliament sessions ended abruptly today after the joint opposition stormed the Well of the House claiming that the government was trying sabotage tomorrow's 'Jana Balaya Kolambata' protest rally.
However, the government rushed through two laws including one on the payment of remuneration to employees of the Office of Missing Persons. An adjournment debate which was to be moved by the JO was not taken up as a result of the commotion.
The trouble began after MP Dinesh Gunawardene asked why the government was trying to sabotage the protest by obtaining stay orders from Courts.
"Welikada police had gone to courts to obtain a stay order against the protest saying it will risk the security of the parliamentary complex. The police have done this on orders from the top," he said.
The MP said the permits obtained by various people to hire private buses had also been cancelled.
JO MPs Dallas Allahapperuma and Prasanmna Ranatunga said the government had denied buses to the devotees who were visiting the church of Our Lady of Matara for the annual feast.
Prime Minister Ranil Wickremesinghe who responded said the police could always obtain a stay order on a protest under the Privileges Act to allow the MPs to come to Parliament without any hindrance.
"The Police do not need orders to ensure the safety of MPs," he said and added that only one transport authority is under the purview of the government while the provincial authorities do not come under the central government and therefore the government does not have the power to stop the hiring of private buses.
Law and Order Minister Ranjith Madduma Bandara said the government had not obtained any stay order to stop the protest but had taken steps to ensure the safety of the people.
Members on both sides were arguing for some time while House Leader Lakshman Kiriella moved the Bills and motions.
JVP MP Sunil Handunetti rose to speak as the debate was underway but suddenly the government decided to go for a vote and it was announced that the Bills and motions were duly passed.
Speaker then called for the adjournment debate but the House was adjourned moments later thus ending the sessions for the day. (Yohan Perera and Ajith Siriwardana)