---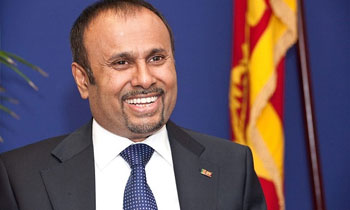 The special seven-member team which was sent to Dubai to bring back former Sri Lankan Ambassador to Russia Udayanga Weeratunga had returned home empty-handed on Tuesday (13), a senior official of the Financial Crimes Investigation Division (FCID) said.
Speaking to the Daily Mirror, he said the special team comprising officers from the FCID, Criminal Investigation Division (CID), Foreign Ministry (FM), Attorney Generals' Department and Department of Immigration and Emigration was sent to Dubai to bring the former ambassador back.
"The team had official discussions with the Interpol and later with the Sri Lankan consulate in Dubai before leaving for Abu Dhabi on February 7," the official said.
This was after it was confirmed that Udayanga Weeratunga was residing in Dubai.
It was learnt that the diplomatic passport and another passport belonging to former Ambassador to Russia Udayanga Weeratunga had been suspended and that he would not be permitted to leave Dubai.
Police Spokesman SP Ruwan Gunasekera said he had no concrete information on what had taken place as he had received updates on the activities of the team that was sent to extract the former diplomat only up to the time it left the country but had not been told what happened thereafter.
He told journalists to contact the Foreign Ministry for more information as it involved an international mission.
However, Foreign Affairs Ministry Spokesperson Mahishini Colonne corroborated the views expressed by SP Gunasekera and said it would be better to contact the FCID for inquiry.
Weeratunga was reportedly detained at the Dubai international airport when he tried to leave for the United States, due to a warrant issued for his arrest.
Police want to bring him back to Sri Lanka to face criminal charges over the 2006 MiG fighter jet deal. (Chaturanga Samarawickrama)