---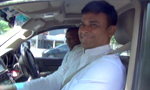 The Government had to increase the taxes as a result of the unprofitable projects launched by the former Government, Social Empowerment and Welfare Deputy Minister Ranjan Ramanayake said today.
After the discussion held at the Temple Trees with the Prime Minister regarding the May Day rally, speaking to the media, Mr. Ramanayake said the Rajapaksa family had placed the country in heavy debt of nearly of Rs. 10 trillion, by implementing several unsuccessful projects, such as Noraichcholai Coal Power Plant, Magampura Mahinda Rajapaksa Port, Mattala Rajapaksa International Airport and the Suriyawewa Cricket Stadium.
"In my view, as a politician and an artiste, taxes should not be implemented on people, who had suffered for years. Every Sri Lankan child comes to this world with a debt of Rs. 500,000. The Government is forced to increase taxes and it is not doing it deliberately. The Government does not intend to trouble already suffering people by imposing these taxes," he said.
He said the President, and the Prime Minister would come to an appropriate decision regarding the tax increase after discussions. (Kalathma Jayawardhane)
Video by Richan