---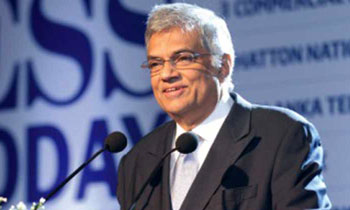 Prime Minister Ranil Wickremesinghe yesterday assured that the government will come up with some tax concessions next month.
The Premier made this statement at a ceremony organized by the ministry of housing to distribute housing loans to 1100 families in the Colombo District at Temple Trees last evening.
"We will come up with a package of tax concessions next month. Those investors who provide employment to people will be given tax concessions under this package," the Premier said.
"The country was deeply in debt when this government took over. However, today we have managed to control the debt. We have managed to control the country's debt to some extent through the Hambantota Port agreement. Sri Lanka will be in a position to pay off its debt by 2020. What we have done during the past two years is taking the country out of the debt trap," he added.
He said the government had been able to generate 150,000 jobs during the past two years.
Minister of Housing Sajith Premadasa said over 2 million families in the country are either without a house of their own while there are others who have not been able to compete the construction. "This government has already commenced work on more than 450 Uda Gamas and the government will be able to complete 500 Uda Gamas by the year 2020," he said.
Further, he said the governments in the past did not focus on housing needs of the people. "Previous regime only focused on giant development projects. These projects put the country in a debt trap. The housing problem could have been solved if the funds spent for giant development projects were spent on housing instead," Mr. Premadasa added. (Yohan Perera)
Video by Buddhi