---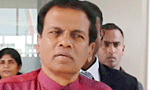 Several political parties and Indian non-governmental organisations in Malaysia have threatened to hold demonstrations if the Government allowed Sri Lankan President Maithripala Sirisena to make a visit to the country.
He is scheduled to visit Malaysia on December 15 to sign several memorandum of understanding (MoUs) with the Government and also to launch the Sri Lanka Food and Cultural Festival.
Johor PKR Vice-Chairman Rony Murugan expressed his dismay over Mr. Sirisena's scheduled visit here, adding that the Government should take into consideration the sentiments of the Tamilians in the country.
He said Mr. Sirisena should not be allowed into the country because of his alleged role in the killing of civilians during the Sri Lankan Civil War.
Rony, who is also the coordinator for the Johor Coalition Against the Visit of the President of Sri Lanka, said the coalition would be lodging police reports in 10 stations throughout the state, as a sign of protest.
The coalition, which was formed to protest against the visit, consists of 10 non-governmental organisations including the Johor Tamilar Sangam and Hindu Rights Action Force (Hindraf) as well as PKR, DAP, Amanah and Parti Sosialis Malaysia (PSM).
Tebrau PKR chief Mohammad Annuar Abdullah added that the coalition was not protesting against diplomatic relations with Sri Lanka.
"We are not protesting against the diplomatic relations between Sri Lanka and Malaysia, but there are many more respectable figures from Sri Lanka that we can welcome to the country," he said.
A meanwhile, in Kuala Lumpur, a number of Malaysian Tamil NGOs are also set to protest against Mr. Sirisena's visit.
The group said in a short press statement that it would stage a protest outside the Sri Lanka High Commission on Sunday over the president's visit. (The Star)