---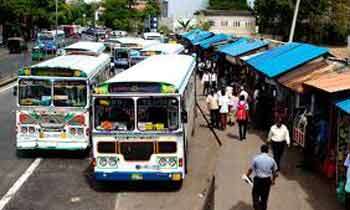 The Inter-Provincial Private Bus Association (IPPBA) today said it would go ahead with the scheduled bus strike tonight since the discussions they had with Transport Deputy Minister Asoka Abesinghe had failed.
The IPPBA President Sarath Vijitha Kumara said the Deputy Minister had requested to wait till next Tuesday (22) for the final decision.
However, the bus associations joined with the IPPBA had come with a decision not to wait.
"Waiting for Ministers' decision till Tuesday is not reasonable and we should get final decision today itself to change the decision of tonight's strike," Mr Vijitha Kumara said.
Sources said that Transport Minister Nimal Siripala de Silva is at meeting with bus association members now.
"It is a miracle that we have a discussion with a Transport Minister after many years. However, if the Minister could not accept our requirement, strike will be launched tonight," Mr Kumara said. (Chaturanga Samarawickrama)