---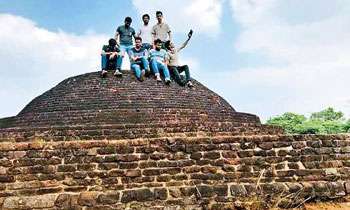 The eight youths who posted the photos taken on top of the ruins of Kiralagala Chetiya in Horowpothana on social media, were released after being fined by the Kebithigollewa Magistrate today.
The youths, who are final year students of the South Eastern University's Engineering Faculty, were arrested on January 23 on charges of illegally entering into an archaeological site, taking photos on top of the Kiralagala Chetiya and defaming a religious place of worship by publishing the taken photos on social media.
When the case was taken up for hearing, the students pleaded guilty to the charges.
Accordingly, Kebithigollewa Magistrate Malinda Harshana De Alwis ordered the students to pay Rs.1,000 each for the first charge and Rs.1,000 each for the second charge as state costs.
For the third charge, suspects were ordered to pay Rs. 50,000 each. (Upali Ananda)