---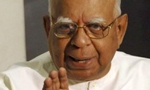 Tamil National Alliance (TNA) chief R.Sampanthan has said that he will discuss with the Indian High Commission the "substantial" environmental problems that will be created if India sets up a 500 MW coal-fired power plant at Sampur in Eastern Sri Lanka.
"The people of the area have been telling me about the substantial pollution and environmental damage which will be caused and have accused me of not taking any action on it. A solar powered plant in place of the coal-fired one is very much in my mind," he told Express on Saturday.
Lankan environmentalists quote the US-based Union of Concerned Scientists to say that a 500 MW coal fired plant will release, every year, 10,000 tons of Sulfur Dioxide (the main cause of acid rain); 10,200 tons of Nitrogen Oxide, which causes smog; 3.7 million tones of CO2, a leading cause of global warning; 500 tons of small particles which cause lung damage; 720 tons of Carbon Monoxide, which causes global warming and 2.2 billion tons of warm water, which when released into the sea will bleach corals and destroy marine life.
According to observers, India may already be thinking of setting up a solar plant at Sampur. Since the National Thermal Power Corporation, which is to set up the coal fired plant, had not been enthusiastic about the Lankan venture, others in the Indian solar energy sector may have to be tapped.