---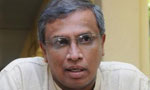 The Tamil National Alliance (TNA) said yesterday it was 'fairly positive' in the overall context about the reports submitted by the six subcommittees with proposals for making the new Constitution.
The TNA, which is the main Opposition of Parliament, had its Parliamentary group meeting yesterday.
Party's Jaffna district MP M.A. Sumanthiran told the Daily Mirror that his party would await the interim report by the Steering Committee so that all the matters could be discussed.
"We discussed the contents of the subcommittee reports and also other fixed ideas about the Steering Committee. Generally, there was enthusiasm regarding the work that has been done so far. There were various concerns raised. In the overall context, what has been produced for discussion is fairly positive."
The party expressed hope that the Constitution making process would be taken forward without any delay for the resolution of what he called the 'national question'.
"We recognize that this is the wonderful opportunity to bring that to an end. We hoped that this process will be taken forward without any further delay. Generally, there is enthusiasm about work that has been done so far," he said.
Asked about his opinion on the report by the committee on centre-periphery relations, he said:
"That is nothing more than what the All Party Representative Committee (APRC) recommended and what former President Mahinda Rajapaksa termed 'the 13th Plus. This only talks about a government which is more efficient and closer to people at three levels- the centre, the provincial councils and the local authorities."
Asked whether the TNA was satisfied with its recommendations, he said it was a good document as a base for discussion. (Kelum Bandara)