---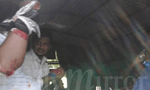 The Tamil National Alliance (TNA) yesterday appealed to all students of the Jaffna University not to permit any recurrence of clashes or similar incidents that will hinder genuine reconciliation amongst communities in the country.
Issuing a statement, the party said it was deeply shocked by the clashes. "We regret that several students have sustained injuries during the University clash and that Sinhala students had to be evacuated as a precautionary measure," it said.
Whilst inviting the students who have been evacuated to return to Jaffna, the TNA urged the students who are remaining in the university to welcome them and assure them of their safety as they resume their studies.
"We call upon the students and the authorities to work together in creating the right conditions for students from different backgrounds to live and study together in the University in the future," the statement said.