---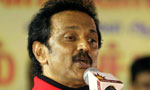 DMK leader M.K. Stalin said that the AIADMK government had failed to find a lasting solution to the fishermen issue, despite promising to protect their livelihood and retrieve Katchatheevu in its 2011 election manifesto.
Addressing an election rally here on Friday, he said that after the AIADMK came to power in 2011, Sri Lankan navy had arrested about 3,000 fishermen when they set out for fishing in the Palk Bay and confiscated more than 400 boats, but the government had not taken any step to find a permanent solution to the issue.
He said that more than 90 boats were still in the custody of the Lankan government and 18 boats confiscated by the Lankan navy could not be salvaged as they had suffered extensive damage.
The AIADMK which had promised in its 2011 election manifesto to establish a Fishermen Protection Force, set up cold storage facilities and retrieve Katchatheevu, remained silent after coming to power, he said.
He said that the people of the State, including fisherfolk, had elected 37 AIADMK MPs in the 2014 Lok Sabha elections but none raised the fishermen issue in Parliament and put pressure on the Central government to find a solution. The DMK, if voted to power, would ensure peaceful livelihood to fishermen in Ramanathapuram, Nagapattinam and Pudukottai districts, he said.
Referring to AIADMK's poll promise of providing 100 units free power, Mr. Stalin said that it was ridiculous on the part of Ms. Jayalalithaa to talk about free power, when her government could not generate one MW of power during the last five years. (The Hindu)