---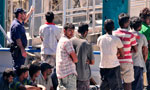 The Tamil Nadu Coastal Security Group has busted a racket in ferrying Sri Lankan Tamil refugees to New Zealand on the promise of jobs, following the arrest of two persons – E. Balaji and R. Yuvakumar – from refugee camps in Vellore and Kanniyakumari districts on Tuesday.
Coastal Security Group sources told The Hindu on Friday that the duo had planned to ferry around one hundred refugees from Muttom in Kanniyakymari district to New Zealand.
A 75-foot-long boat bearing Kerala registration number and three vans, which were meant for transporting the refugees, were seized through coordinated efforts of enforcement agencies, including the Q Branch police.
Nine thousand litres of diesel and 4000 litres of water were recovered from the boat.
Investigation revealed that the duo received Rs. 2 lakh from each of the refugees to ferry them to New Zealand on the promise of lucrative jobs. Intensive patrolling with the aid of speed boats off shore and all-terrain vehicles on shore resulted in foiling such illegal attempts, sources in the Coastal Security Group said.
Recently, 14 Sri Lankan nationals who were staying in Tiruchendur and Kanniyakumari before being ferried to New Zealand were arrested. Five of them did not have valid passports.
CSG officials said that earlier in June illegal bids to ferry 33 refugees were thwarted. The CSG personnel, led by Additional Director General of Police C. Sylendra Babu, organised an awareness camp at the Mandapam refugee camp recently.