---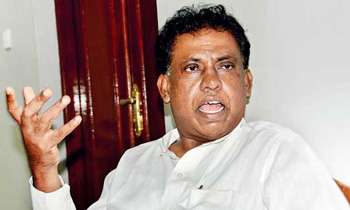 The Tamil Eelam Liberation Organization (TELO), which is one of the parties aligned with the Tamil National Alliance (TNA), asked a written commitment from the United National Party (UNP) to implement the 13th Amendment in full, along with land and Police powers and to merge the North and the East as a condition for support it to form a Government, it is learnt.
The TNA allies- Ilankai Tamil Arasu Katchi (ITAK), TELO and People's Liberation Organization of Tamil Eelam (PLOTE) – held a meeting on Tuesday evening and discussed its preliminary decision to support the appointment of a UNP nominee as the Prime Minister.
There are two MPs– Selvam Adaikkalanathan and Vino Noharathalingam- representing TELO in the TNA.
The TELO representatives said the TNA should secure a written commitment to address five demands as a condition to support the UNP at this hour.
The release of military held land, the repealing of the Prevention of Terrorism Act (PTA) and the freeing of LTTE suspects commonly called Tamil political prisoners, are the three demands.
TELO member M.K. Sivajilingam told the Daily Mirror the TNA leadership was not agreeable to ask a written commitment from the UNP.
"Therefore, the meeting ended inconclusively," he said.
The alliance partners will meet again today for further discussion.
The TNA has 16 seats in Parliament. One of them has already joined the Government, and another remains neutral.
Out of the remaining 14 MPs, TELO is represented by two members.
The ITAK is the dominant party represented by TNA Leader R. Sampanthan and influential members such as M.A. Sumanthiran and Mavai Senathirajah. (Kelum Bandara)