---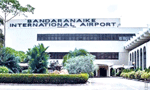 The computer system of the Immigration and Emigration Department at the Bandaranaike International Airport- Katunayake had crashed this afternoon.
This had resulted in many passengers having to wait in line for hours to get their documents cleared.
It was reported that the failure had originated at the head office of the department situated in Colombo.
Immigration and Emigration tasks at all harbours and airports came to a standstill because of the two and a half hour long system failure that was experienced.
The system was up and functioning again at around 5.45 pm. (T.K.G. Kapila)