---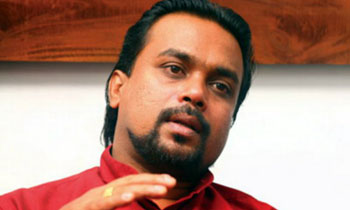 MP Wimal Weerawansa yesterday urged President Maithripala Sirisena to use whatever the weapon he had - be it a sword or an axe - to punish the culprits of the Central Bank (CB) bond scam.
At JO briefing, he said the President should remove Prime Minister Ranil Wickremesinghe and other ministers who he said were responsible for the scam and that it was not the job of the President to summarize the contents of the PCoI report to the media.
"A PCoI spokesman could have revealed excerpts of the report. That is not a job fit for the President of a country. The President's duty is to take action against the wrongdoers. That's what he should have done after receiving the bond report," the MP said.
He asked the President whether he could continue to work with the Prime Minister and Ministers Malik Samarawickrama, Kabir Hasim and MP Ravi Karunanayake.
"The Prime Minister and other ministers should resign immediately. If not, the President should remove him and the ministers responsible for this scam," the MP said.
He said the President should also take responsibility of the scam as it was he who dissolved Parliament to prevent the previous COPE report being presented in Parliament and authorized Mahendran's appointment.
"The President can repent for the sin of dissolving Parliament by convening it immediately and tabling the Bond report in the House," the MP said. (Lahiru Pothmulla)