---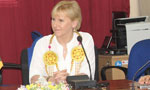 The Swedish Minister of Foreign Ms. Margo Wolstorm presently on a visit to Jaffna stressed on Tuesday, that as Sri Lanka had now assumed a position of a middle income country, her country was not in a position to assist the North and East separately.
The Swedish Foreign Minister made this declaration, when she met the Chief Minister of the Northern Provincial council C.V. Wigneswaran at the latter's office in Jaffna and a request was made to her to assist the areas in the North and East.
The Chief Minister, who continued to address the Foreign Minister reiterating that in the aftermath of the war the areas in the North and East were still struggling owing to insufficient foreign aids, and it had become essential for their development these aids were made available.
In her reply the Swedish Minister emphasised that Sri Lanka was now achieving a status of a middle income economy country and as such, the present conditions did not warrant Sweden to treat the North and East separately and grant aid.
A decision should be taken by the Swedish Government after a proper discussion, she said.
It was also observed that during the discussions the Chief Minister, had with the visiting delegate, which he was aware that the country was now experiencing a situation, where democratic principles were fostered.
He had also pointed that they had requested for a Federal system in the North and East in order to achieve the aspirations of the Tamil people.
Taking a swipe at the chief minister's statement the visiting delegate questioned whether in the face of mounting opposition from the people in the South and the political parties, a demand for federalism would be successful.
In his reply the Wigneswaran recalled earlier instances in history, where there had been agreements to grant a federal system of Government to the North and East.
The Swedish minister in wounding up said that she hoped that the political forces in the South would understand the prevailing situation in the country and minimise their objections if any in due course.(Romesh Madushanka)