---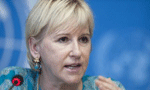 Foreign Minister of Sweden Margot Wallstrom, who arrived in Sri Lanka today appreciated the work of the new government of re-establishing democracy and said the country has marked a significant progress.
During a brief discussion held with the Deputy Foreign Minister Dr. Harsha De Silva, the visiting Sweden Minister said she would be looking forward to discuss with the President Maithripala Sirisena and Prime Minister Ranil Wickremesinghe during the discussion to be held today (25).
"She was very excited about the visit. She shared her memories in Sri Lanka; at the time she served as the Executive Vice President of the World View Global Media and stayed in a house in Battaramulla years back. She said she felt privileged to visit Sri Lanka on an official visit. She also said that the whole world including Sweden is admiring the work of the new government specially for establishing the personal freedom in the country," the Minister said.
Minister de Silva also said Sweden's Foreign Minister, Margot Wallstrom is scheduled to attend a Business Discussion Table at Cinnamon Grand in Colombo today (25) where many important aspects are to be focused in sharing business corporation with the two governments.
During her visit, Wallstrom will also visit Jaffna where she will meet with government officials and civil society and visit an IDP welfare camp and a housing project.
Her interest in the discussions in the Northern Province would be focused on political matters. (Piyumi Fonseka)
Video by Ranjith Ferdinandez